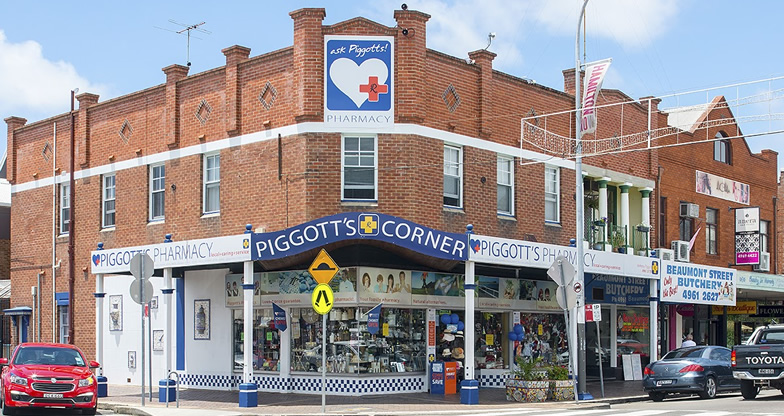 The Piggotts Story – celebrating 50 years of business!
Christopher and Shirley Piggott met in Sydney University whilst studying Pharmacy. They got married and moved to Newcastle where they bought their first pharmacy in Blackbutt in 1970 from Mr Borthwick, with Shirley 8 months pregnant. The Piggott family lived in an apartment above the Pharmacy for 3 years with Chris and Shirley alternating Pharmacist, management, accounting and parenting roles! When Charlestown Square opened in 1979, Chris opened a Soul Pattinson Pharmacy. It was soon to be one of the busiest pharmacies in the Hunter region. Chris was a big personality and became well known in the town, especially with regular radio and TV appearances. Chris and Shirley eventually had 4 children, 2 boys and 2 girls. Nobody would have foretold that 3 of them would later follow in their parents footsteps and became Pharmacists. The one son who instead studied Surveying, later fell in love and married an Austrian Pharmacist!
After owning a number of pharmacies, Chris slowly sold them to semi-retire but he kept his beloved Piggott's Pharmacy Blackbutt. It was 2009 when the youngest children, Skye and Anthony, took over the family business. Anthony Piggott, now the driving force, quickly expanded in Hamilton, Hamilton South, Branxton and Lambton with the help of his brother, and wife Sandra, and great pharmacists Lee Grundy and Brett Plumb as business partners.
Why Piggotts?
Anthony is very active in the local community and the pharmacy community alike. He is well entrenched in providing traditional pharmacy values, genuine care, and quality service and advice. When you go to a Piggott's Pharmacy you will feel a warm welcome from staff who love their job. We invite you and your family to visit us or call us should you need any trusted health advice.
Piggott's Pharmacy has been serving the Newcastle Community for almost 50 years with personal service and care. Piggott's Pharmacy is not a generic brand, we are a local family pharmacy caring for your family and community. Piggott's Pharmacy have engaging and happy staff members, who value each and every customer. Caring service is what we strive to provide, with a smile. You are welcome to challenge our claim by visiting any Piggott's Pharmacy – When you experience the difference, you will be glad you did!